Ciheb Zambia Combating Gender-based Violence in Zambia.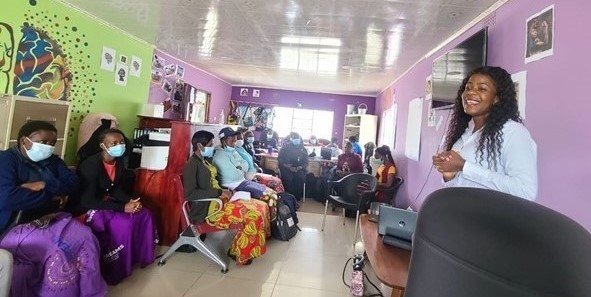 A group of the 110 mentors trained across three districts.
Gender-based violence (GBV) has been shown to be associated with HIV risk. In 2017, 22.2 percent of adolescent girls and young women (AGYW) respondents reported cases of sexual violence from intimate partners, and 16.9 percent of respondents reported cases from non-partners. AGYW face numerous barriers in access to health and GBV care, including unequal gender norms, stigma, and lack of resources, as well as a lack of youth-friendly services.
In-line with Ciheb-Zambia's promise fight GBV among AGYW, the center adopted the Listen, Inquire, Validate, Enhance Safety and Support (LIVES) approach. Across three districts, 110 mentors were trained through Ciheb-Zambia's partnership with the Determined, Resilient, Empowered, AIDS-free, Mentored and Safe (DREAMS).
First line responders (mentors) have employed the LIVES approach through the DREAMS program; they've used it from identifying GBV cases through the end of the referral process. The LIVES training also reinforced the importance of mentors' self-care; to avoid stress and burnout, mentors should take care of themselves after processing GBV cases. The LIVES approach has helped in improving Ciheb Zambia's GBV case identification in DREAMS programming.