Ciheb Zambia Supports Ministry of Health in COVID-19 Vaccine Readiness and Rollout.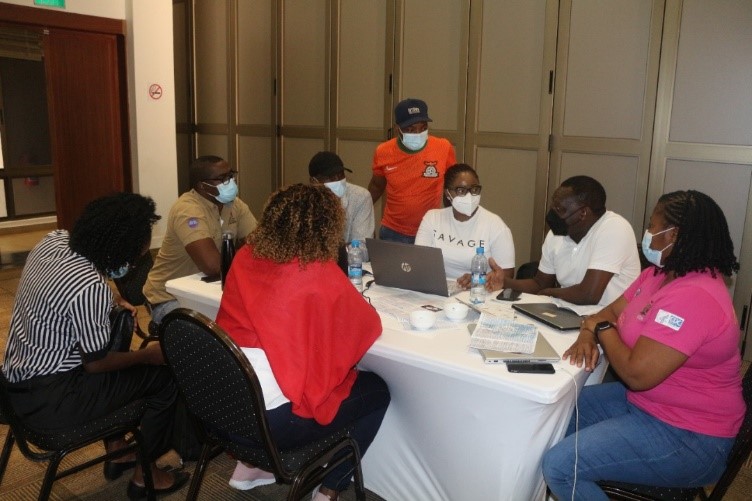 Dr. Abel Kabalo, Director Health Promotion – MOH (second from right); Linah Mwango, Deputy Chief of Party – Ciheb Zambia (third from right); Dr. Kalangwa Kalangwa, Assistant Director Health Promotion – MOH (third from left), and others discuss the COVID–19 vaccine rollout.
In response to the multiple challenges Zambia is facing to vaccinating its population, Ciheb Zambia is supporting the Ministry of Health (MOH) to effectively roll out the COVID-19 vaccination program.
Supporting the Ministry of Health
Ciheb Zambia received a grant from the Task Force for Global Health through the U.S. Centers for Disease Control and Prevention to support COVID-19 vaccine rollout. Ciheb Zambia has helped strengthen the human resources support at the Expanded Program on Immunization Unit (EPI), training of service providers in provision of high-quality vaccination services and monitor for adverse events following immunization.
Ciheb Zambia has also supported the MOH through organizing a training to develop education materials on risk communication and community engagement targeted at people living with HIV (PLHIV) and service providers to improve the uptake of vaccines among PLHIV.
Smartphone App Development
Ciheb Zambia has taken a holistic and innovative approach to aid the Government of Zambia in its fight against the pandemic. The organization has developed a smartphone app that helps clinicians determine whether a patient′s clinical symptoms require testing for COVID-19 by guiding them through a series of screening questions. The app can also be continuously updated as case definitions change. Data collected by the app, in turn, will help to monitor the outbreak.
In a bid to ensure that the country, through the MOH, meets its COVID-19 vaccine provision targets, Ciheb Zambia will continue to support the ministry in rolling out the vaccination program.