Ciheb Zambia DREAMS Implementation Updates in 2021.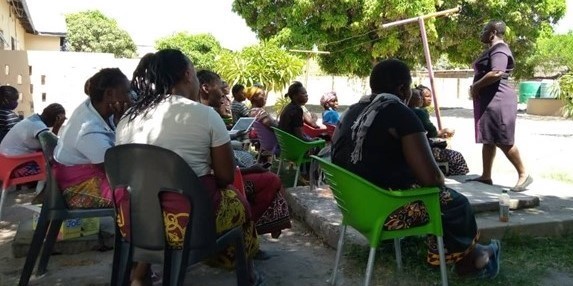 Priscilla Makasa (Site Coordinator-Mongu) educating the parents of the AGYW on the benefits of family planning and PrEP .
Ciheb, its local partner Ciheb-Zambia, and the Zambia Ministry of Health are scaling up community-based HIV prevention and testing services under the ongoing DREAMS initiative.
In December 2020, Ciheb and Ciheb-Zambia launched the DREAMS initiative and since then, six DREAMS houses with 120 safe spaces have been set in three districts of Southern and Western Provinces. The DREAMS initiative is aiming to reduce HIV incidences among adolescent girls and young women (AGYW) through economic empowerment, offering biomedical interventions, and school-based support. To support AGYW, Ciheb procured tablets for data management, library supplies and tailoring machines for economic support activities, and books, uniforms, shoes, bags, pens, and pencils for education support materials.
From October 2020-March 2021, Ciheb has screened and recruited 19,024 AGYW, of which 37.5% were aged 10-14, 46.5% aged 15-19, and 16.1% aged 20-24 years. The recruited AGYW were enrolled in a 13-part social assets building series, which is the primary prevention intervention package. During this series, AGYW are educated on sexual reproductive health, relationship communication skills, and economic empowerment. A total of 12,261 AGYW have since completed the behavioral education package.
Pre-exposure prophylaxis (PrEP) is one of the DREAMS layered services offered to the AGYW as a secondary intervention package. Between October 2020-March 2021, a total of 868 people between the ages of 16-24 were initiated on PrEP. The PrEP numbers have increased from 71 in quarter one to more than 800 AGYW currently on PrEP in quarter two.
In Mongu District, prevention services were offered to 3,948 AGYW. Of those AGYW, 2,785, or 71%, completed the full primary package only, but 1,871 completed the full primary package and received additional secondary services. Primary services that young people may have received included HIV self-testing, family planning, PrEP, Families Matter! Program, or condoms.
DREAMS implementation has led to at least four new lessons learned:
Economic strengthening activities in the DREAMS centers has kept the 20-24-year-old population of young women more engaged.
The parenting program has helped improve communication on sexual issues between adolescents and their parents.
Over 600 children who were about to drop off school or had dropped off had their school fees and other needs paid for to keep them in school.
Provision of biomedical interventions at the DREAMS centers helps retention of AGYWs aged 20-24 years.